Apt.#A
Apt.#B
Contact us
FAQ & Rent $
House features
Tenant Documents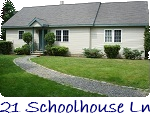 Apt.#1
Apt.#2
Apt.#3
Contact us
FAQ & Rent $
House features
Tenant Documents
Recycling schedule
Recycling policies
Trash schedule
Dining
Lodging
♦ 9 Schoolhouse Lane - Property Features ♦



House #9 contains two-apartments, one apartment per floor.

The entrance for for Apt.A is at the front of the house, the entrance for for Apt.B is at the rear of the house.
Here's some of the many amenities and unique features at 9 Schoolhouse Lane:
Modern kitchen furnished with contemporary table/chairs, microwave, and all major appliances.

Large living room furnished with sofa, coffee/endtables, and more.

Bright full bath with tub/shower, sink, 1.6gpf toilet.

One bedroom per tenant, each with 1-3 windows and furnished with study desk, office chair, and more.

Big-screen TV and entertainment stand.

Large side yard with extensive landscaping and plenty of lawn space.

Sunny deck furnished with patio furniture.

Internet-ready wired connections, and router for wireless connections(*requires Comcast service).

In-apartment laundry with washer and dryer.

Off-street parking behind house, and parking for visiting guests in non-ticket zone.

Best downtown location located on quiet, traffic-free road across from Dunkin Donuts.
Many additional furnished items, listed on the Tenant Papers page.

Exterior image gallery(click arrows to view):
In addition to the features above, tenants also enjoy the benefits of modern construction including:
Forced hot water heat, with clean baseboards.

High ceiling heights.

Modern, removable, gas-filled exterior windows with security-locks, furnished with blinds.

Recess lighting throughout the apartment, eliminating the need to bring floor lights.

Steel exterior doors with deadbolts and frequently-changed locks.

Quiet interiors for studying, due to fully insulated ceilings and walls.

Smoke detectors(both hard-wired & stand-alone), in every bedroom and throughout the apartment.







Est.1995 Schoolhouse Lane Rentals, Durham, NH 03842
SchoolhouseUNH is not affiliated with or sponsored by the University of New Hampshire or UNH Student Housing in any manner.